For this season Agatha frames grow in size, its height increases, and its sharp features at the front ends remain so as to give a daring look to the gaze. Pear shapes prevail in metal models, but the edges are accentuated to achieve a bolder look.
Volume combinations, laminations and complex structures are complemented by temple decorations, and prints. Every frame shines with its own light, aided by Agatha's colourful universe.
COLOURS
Agatha's colour palette remains as ever-lasting, although new additions have been added to this new season. Living Coral, 2019's colour for Pantone, gains power in order to give to Agatha's glasses a more vital vibe with golden hues that bring energy and dynamism to the pieces, always with a touch of softness. For this collection, pinks, lilacs and blues are crystallized, therefore creating interesting transparencies on acetate fronts.
PRINTS
Temples and interior part decorations create a unique universe in each frame. In the most classic shapes, Agatha's own prints give a touch of charisma, life and joy to the glasses. Every single print is unique and exclusively designed by Agatha Ruiz de la Prada.

PETIT SIZE
Agatha Ruiz de la Prada's shapes in reduced version. A collection that is dedicated to those women with small, delicate factions which require more measured calibres. A collection of 8 models which is distinguished by its predominance of metal over acetate.
GLASS
A new incorporation to the catalogue: Petit Size, an acetate model with a double-coloured pear shape. The front has a chromatic fade; on the top par a solid Agatha colour shines with its own light and softly fades to become a part of the leather on the bottom thanks to the transparency element of the glass. A sensational composition for this season which is joined by a plain temple that matches the front.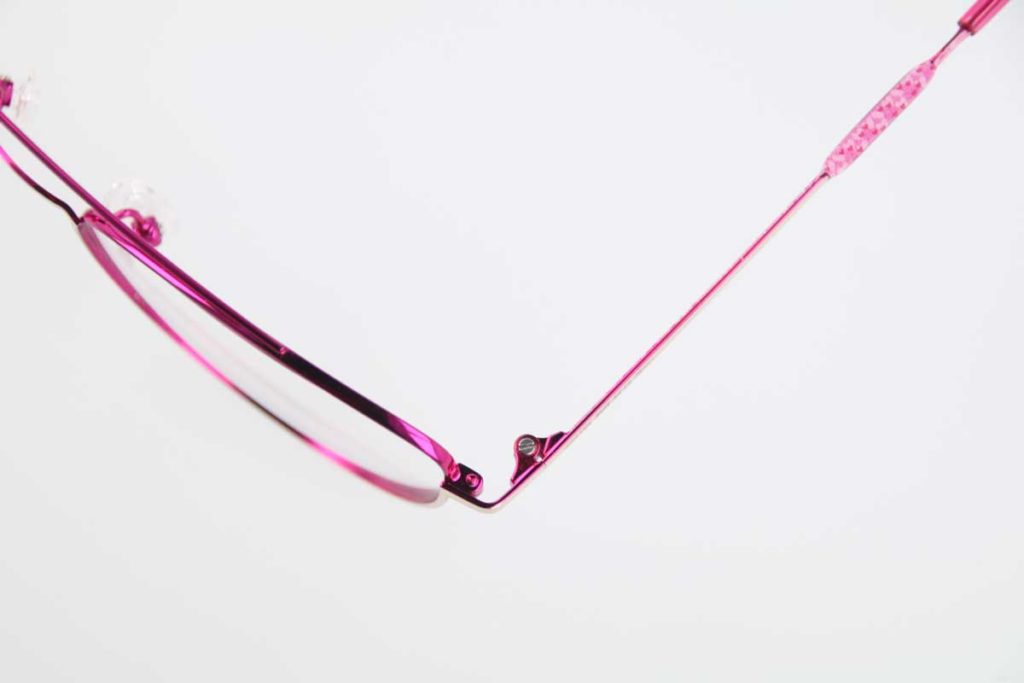 METAL
The stainless-steel models of this collection play with the use of double bridges and combine models with both round, conventional lines and more daring models that flirt with some hexagonal, sharp, inventive lines.
INTRICATE FRONT, SIMPLE TEMPLE
A front that shines and a temple that accompanies it. This is one of the Petit Size collection's mottos. The temples are lively yet sober and sometimes combine two colours, with the beloved usual Agatha heart print. Their job is to add to the whole piece and make the front's structure stand out, enhancing the fun, happy look the front offers with its laminations, sections and blocks.